Title: No-No Boy
Author: John Okada
Publication Date: 1957 (2014 edition)
Publisher: University of Washington Press
Genre: Realistic fiction (now considered historical)
Pages: 232
Age Rating: Readers over 12
My Opinion: 8/10
Hi, Readers!
I am pleased to announce, with a sigh of relief, that
No-No Boy
, by John Okada, is a much simpler novel to understand than the last novel I read for American Fiction from 1950 to Present,
The Subterraneans
. Thank goodness! It also has a much more intriguing plot line and more reachable characters. The strongest aspect of
No-No Boy
, however, has to be its focus on minority groups that are not usually discussed in literature. Although it was written in its time as realistic fiction, it can now be considered historical and it opened my eyes to a twentieth century issue that I was entirely unaware of.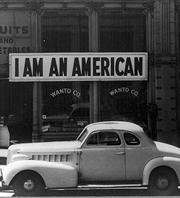 The rights of Japanese Americans
were called into question
During the Second World War, thousands of Japanese Americans were forced into internment camps in the midwest due to their ethnicity. While in these camps, they were forced to answer a questionnaire determining their loyalty to the United States, in which two questions asked if they pledged allegiance to the US (thus denouncing Japan) and if they were willing to serve in the American military. Men who answered "no" to both questions were immediately labeled "No-No Boys" and were either deported or sent to prison. Okada's novel focuses on Ichiro Yamada, a No-No Boy who is released after two years in jail, and his attempt to reintegrate himself into society. When Ichiro reunites with his family and friends, he realizes that he is no longer considered a respected member of the country that he grew up in. He faces a long journey of self-discovery filled with doubts and trials, and Okada questions the character of America as a whole in the powerful novel.
As my professor described to us in class, No-No Boy is, in reality, a novel about a minority group inside of another minority group. No-No Boys were the minority of Japanese Americans, and Japanese people were a minority in America. Interestingly, the Japanese American community rejected Okada's novel when it first came out, most likely because of its honest depiction of the hardships the group endured and the reality of the treatment of No-No Boys. To be completely honest, I had never even heard of No-No Boys before reading the novel, which is why I found it so enlightening. It discusses touchy subjects in American history that few novels even have the guts to address.
One downside of
No-No Boy
is the portrayal of many unlikeable characters. For starters, although Ichiro has been through a lot over the past couple of years of his life, he is not a particularly 'likeable' character. He complains often, resorts to drinking away his feelings, and is rude to his family and friends. I may seem harsh, but I'm not going to cut Ichiro any slack because his friend Kenji goes through events just as tortuous as his own and manages to retain a positive outlook on life. Next, Ichiro's mother is indubitably portrayed as a villain throughout the novel, and she is one of the meanest characters I have ever come across. Her selfish disillusionment hurts everybody around her and causes her to self destruct as she refuses to believe that Japan lost the war.
No-No Boy
is portraying an extreme minority audience, and I cannot speak for anyone except for myself, but it's practically impossible for me to relate to what the characters are going through.
I certainly cannot call into question the power of Okada's novel. It does an excellent job addressing the social and racial issue of the No-No Boys of World War II, and it opened my eyes to a completely unique lifestyle. However, I wasn't the biggest fan of the characters in the novel, which turned me off at points. I would recommend No-No Boy to lovers of historical fiction, but it is not a light-hearted novel for casual readers.
Happy reading!