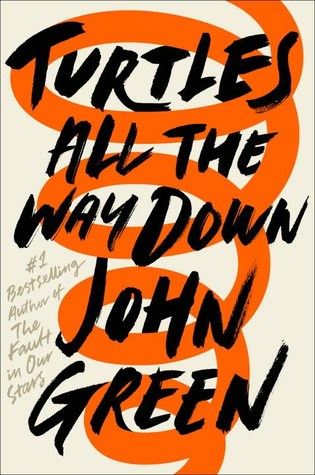 Title: Turtles All the Way Down
Author: John Green
Publication Date: October 10, 2017
Genre: Realistic fiction
Pages: 286
Age Rating: Readers over 13
My Opinion: 7/10
Hi, Readers!
Happy New Year! I hope everybody got to unwrap lots of new books over the holidays. I know I sure did, and I'm super excited to read them. One of the best parts about winter break is getting the opportunity to snuggle under a blanket with some hot chocolate and enjoy a good book (which is what I'm doing right now). One of my best friends had loaned me John Green's newest novel,
Turtles All the Way Down
, a couple of months ago, and I finally got around to finishing it this afternoon. Although I had a lot of trouble getting into the story at first (hence the two months it took me to read the entire thing), I ended up feeling satisfied by the end.
Aza Holmes is a high schooler who struggles with a number of mental issues such as OCD and anxiety. She spends her days locked away in the spiral of her own mind, escaping only when dragged out by her best friend, Daisy. When the father of Aza's old camp friend and now unbelievably wealthy neighbor, Davis, suddenly goes missing, Aza and Daisy decide to search for some clues. Under these unusual circumstances, Aza is reconnected with Davis, and the two of them attempt to navigate this difficult time in their lives together. John Green's beautiful prose weave together Aza and Davis's relationship with the struggles of being a teenager and the intense labyrinth of Aza's mind to create a story of hardship and friendship.
Aza's perspective on "Turtles all the way down"
As you may know from some of my previous blog posts, John Green is one of my favorite authors of all time. He has such a strong voice as a writer and never fails to capture unique perspectives perfectly. His books are filled with powerful one-liners that always stick with me for weeks after reading them. To be completely honest, though, I felt that Green may have tried a little bit too hard on this one. He hadn't released a novel in a while, and I felt that some of the universal revelations in
Turtles
were a tad bit forced. For instance, after including an anecdote explaining the title, Green went back and referenced the title yet again, unnecessarily, a few pages later. In addition, although Aza's mental struggles are the main focus of the novel, Green falls back on the same description words often, such as "thought spirals." I wish that a few different perspectives on the mental illness could have been included.
I definitely enjoyed the second half of the novel more than the first. One of my favorite scenes came near the end of the novel, when Aza and Daisy attend an underground art show. Although Aza feels like she doesn't change as a person throughout the course of the novel, she definitely learns the importance of friendship and loyalty. I wish that the end of the book had been different, but I did not feel like anything was missing in the conclusion.

Turtles opened my eyes to the perspective of people suffering from mental illnesses, and for that reason I would recommend it to a friend. It's a pretty heavy topic and is much more serious than the books I usually enjoy reading, but I learned a lot and I'm glad I finished it.
Happy reading, and stay warm!





P.S. Just wanted to share - my Creative Writing professor from last semester is in the same Fantasy Soccer league as John Green! How cool is that?!