Hi, Readers!
If any of you have gone to a bookstore, you've probably experienced something similar to how I felt walking into Barnes & Noble the other week. I've decided to document my book-choosing experience below in the form of a stream of consciousness narrative. So if you were ever wondering how my crazy mind works, enjoy this unfiltered, unedited, absolutely ridiculous story of my book buying journey.
Adventure time at Barnes & Noble!
The day before I went back to college for the semester, I received an offer I could not resist. My mom told me that if I accompanied her to the grocery store, she would let me use her Barnes & Noble gift card to buy a new pleasure book to bring to school. I immediately exited out of my Netflix account, jumped off my comfy bed, and ran to the car. Anything for a new book! As I was walking from the grocery store to Barnes & Noble, I realized that I had not purchased a book in quite some time. It's a different feeling to check a novel out from the library because if it's bad, you can just stop reading and return it. But if I was going to spend *real money* on this book, it had better be a good one, that's for sure.
I started feeling a lot of pressure as I walked into the bookstore. A look of panic flashed across my face as I wondered whether Young Adult novels would be found in the Children's section or the Adult section. I didn't want to be caught amidst the colorful rows of picture books - what if somebody saw me?! At the same time, the glossy hardcovers of the adult section still intimidated me too much to casually stroll through the formidable aisles. I tentatively decided to scope out the store with a quick walk through and managed to spot a few familiar titles in the row across from the Adult Fiction. Phew.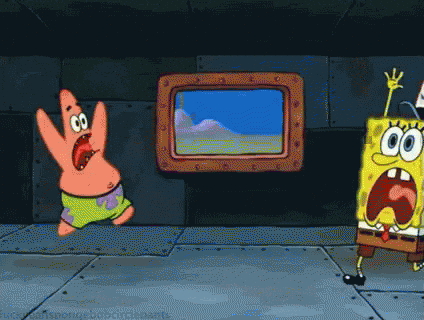 Me when I first entered the bookstore
Then, I was faced with my next dilemma. What genre was I looking for? Of course, my go-to has always been fantasy. But lately I haven't been getting as invested in novels that are so unrealistic that I have trouble relating to them. Even dystopia has been seeming a little far-out. I decided to start with the simple "YA Fiction" section.
Whoever said "You can't judge a book by its cover" sure is right. Who knew that
every single
YA novel in the book store would have a super flashy cover that told absolutely nothing about its contents? I felt as though I was looking at a wall of graffiti - every single cover tried to stand out more than its neighbors. I knew to steer clear of covers featuring beachy scenes with romantic couples because I wasn't looking to read anything cliche or gushy. I also knew to avoid anything too dark and spooky because I wanted something more lighthearted.
I also discovered that titles say absolutely nothing about books. They are so generic! Many of them seemed to be random idioms that, I'm sure after actually reading the book, would have some seemingly profound meaning to them.
Because I was going to be spending money, even though it wasn't my own, I felt an unbelievable amount of pressure to choose an amazing book. But my problem was, I had no idea to tell which books would fall flat and which would rise above the rest! I tried Googling "Best YA books 2017" but was immediately overwhelmed with a barrage of titles and authors that I didn't recognize. I decided technology would not be necessary for this decision and went back to scouring the shelves.
Me and Earl and the Dying Girl, featuring my
college bedroom
Finally, I ended up in the section near the John Green books. I like John Green. He's a cool dude. Seriously, though, I've loved every single John Green book I've read, so I figured that, by the transitive property (or something math related - I haven't taken a math course in two years!) I would enjoy the books they put near his books in the store.
My eyes were naturally drawn to the brightest colored rectangle. I guess I'm a sucker for neon, and the cover designers Will Staehle and Chad W. Beckerman created an aesthetically pleasing cover. Then, I was struck by the title of the book -
Me and Earl and the Dying Girl
(by Jesse Andrews). Catchy rhyme scheme, am I right?
But what reaaaally put me over the edge was when I turned the book over to read the back cover and saw the word Sundance. The Sundance Film Festival has produced some of my all time favorite movies. I'm always struck by the beauty of the cinematography in Sundance films as well as their utterly unique plot lines. The fact that
Me and Earl and the Dying Girl
had a movie version that was shown at Sundance convinced me to snatch the book right off the shelf and march it to the checkout counter. This way, even if the book stunk, I would have a great movie to watch regardless. Plus, in theory, everybody says that "the book is always better than the movie." If I know for a fact that the movie will be fantastic because it was shown at Sundance, then the book must be even better. Therefore, it will be AMAZING!
The real reason I bought the book - Sundance!
Long story short, my trip to Barnes & Noble led to the realization that I made the process of purchasing a book much more complicated than it needed to be. Fingers crossed that
Me and Earl and the Dying Girl
is actually good. Be expecting a review of the novel coming up soon. Plus, another realization that I just had while writing this post was that blogging is a great procrastination technique. Boy, stream of consciousness writing is enlightening. Have you ever had an interesting book buying journey? Please share in the comments below!
Happy reading!